Ford Service at City Automall

Keep up on Vehicle Maintenance Needs with Expert Ford Service in Columbia City, IN
Vehicle due for service updates? You came to the right place for a comprehensive maintenance check-in. Our Ford factory-trained technicians here at City Automall feature the expertise and OEM-approved qualifications needed to assist in maximizing your ownership experience.
If you're ready to get the most out of every mile and invest in your vehicle's future, we invite you to schedule an upcoming appointment at our Ford service center! Preview some of the services our experts provide before arranging your next visit online or over the phone.
Examples of Services We Provide
Oil & Filter Changes
Your vehicle's oil and filter provide necessary lubrication support to the most vital under-the-hood configuration - the engine. To protect from issues related to overheating, engine build-up and increased friction between components, we recommend scheduling routine oil changes with our Ford factory-trained service technicians in Columbia City.
Spark Plug and Ignition Coil Service
Spark plugs ignite the fuel that powers your vehicle, relying on ignition coils to create this essential effect. Issues related to the ignition coil and subsequent spark plugs, if not tended to, can lead to dips in performance and fuel efficiency. But with the help of our team, replacing these components with genuine Ford auto parts, you can remain confident in motion for many miles ahead.
A/C Service
Your vehicle's air conditioning system keeps you cool depending upon the temperature outside and passenger's comfort levels within. If you observe a loss of filtration power or lack of cold airflow, our Ford service technicians can conduct a diagnostics inspection, replacing and repairing necessary components.
Head Gasket Service
To avoid a blend of fuels - including oil and coolant - with an engine operating at peak capacity, while maintaining steady compression ratios, your car's head gasket needs to remain in tip-top shape. Our certified mechanics will conduct a diagnostic review of your vehicle's head gasket, repairing and replacing this essential component as needed.
Tire Changes & Orders
The tread of your vehicle's tires wears naturally over time, eventually requiring replacements after covering thousands of respective miles. To maintain an even tread wear and make your current tires last longer, we suggest regularly stopping in for tire rotations. And when you're ready to place an order on new tires, our certified mechanics can handle the installation process on your behalf.
Transmission Service
Linking your vehicle's engine and wheels through intuitive gears and sensors, the transmission is one of the foundational systems that requires consistent service upkeep. The quality of your drive can decline with poor functionality and excess wear, leading to costly damage that was fully preventive. Our certified mechanics are happy to inspect your vehicle's transmission to conduct necessary repairs and ensure these problems aren't amplified.
Suspension Work
Your car's suspension works to maintain a smooth, controlled driving experience that you can reliably count on. Suspension problems can lead to a compromised ride and more extensive repair requirements down the road. Stay on top of transmission service with the help of Ford service experts here in Columbia City.
Alignment Service
Proper tire alignment is crucial for a safe drive with consistent performance. Issues related to misalignment - including a vehicle that pulls and a steering wheel that vibrates - can potentially put you at risk behind the wheel. If you hit a pothole or curb and notice the relevant warning signs, we encourage you to schedule an alignment inspection appointment at our Ford service center.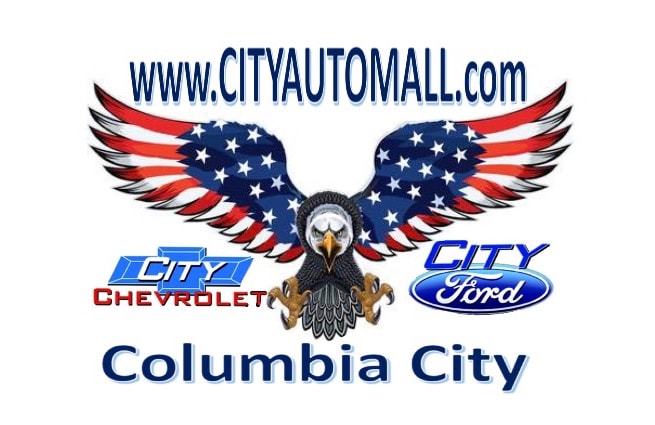 Next Steps in your Ford Service Experience
Ready to get started? Confirm an upcoming service center visit, review available Ford service specials to potentially save, and give us a call with questions today.
Contact
Hours
Monday

7:30am-5:30pm

Tuesday

7:30am-5:30pm

Wednesday

7:30am-5:30pm

Thursday

7:30am-5:30pm

Friday

7:30am-5:30pm

Saturday

7:30am-12:30pm

Sunday

Closed