Chevrolet Certified Service at City Chevrolet

Address Relevant Maintenance Requirements with Factory-Trained Chevy Service Technicians in Columbia City, IN
When your vehicle requires a check-in to address maintenance and repair needs, our team at City Automall invites you to schedule an appointment with our Chevy service center in Columbia City, IN. From factory-trained service technician expertise to a fully stocked parts center, access to genuine components and diagnostics equipment, and much more, we're devoted to keeping your vehicle running smoothly for many miles ahead.
Consider the different types of services you can schedule in our cutting-edge facility and how our factory-trained service technicians tend to these maintenance requirements before scheduling an upcoming appointment!
Types of Services Featured
Oil & Filter Changes
Protecting your engine, the main under-the-hood component that propels your drive forward, requires frequent oil and filter changes. Our Chevy service experts can provide this lubrication support when you schedule a maintenance appointment in Columbia City, IN. Stop issues related to overheating, build-up and excess friction between parts and enhance performance with this important upkeep requirement.
Transmission Service
Ever wonder what connects your engine to the wheels that move you forward? The transmission plays a crucial role in this process! Relying on gears and sensors, this configuration needs routine upkeep and careful inspections to maintain its condition. Mitigate potential damage by checking in with our service team for transmission maintenance work as needed!
Suspension Work
The reliable ride quality and smooth driving capability of your Chevy vehicle is largely related to the pristine functionality of a fine-tuned suspension system. Conversely, a damaged suspension with worn components can potentially compromise safety and the overall consistency of these experiences. Remain proactive to prevent costly repairs with regular transmission service inspections in Columbia City, IN.
Alignment Service
Is your vehicle properly aligned? Misalignment, often caused by hitting curbs or potholes on rough roadways, can lead to extensive damage and a decline in driving performance if not tended to. But with the support of certified Chevy service technicians, working with diagnostics equipment to correct angles and realign your daily driver, you can get back to enjoying a consistent travel experience.
Spark Plug & Ignition Coil Service
Spark plugs and ignition coils respectively play pivotal roles in igniting and powering your Chevy vehicle. When these essential components become worn or damaged, this reliable driving operation is potentially affected. If you notice issues related to spark plug and ignition coil functionality, contact our service experts directly for a detailed inspection and replacement appointment.
Head Gasket Service
The head gasket in your vehicle serves multi-faceted roles to optimize engine performance. From steady compression ratio maintenance to fuel separation that prevents blending under-the-hood, this essential configuration requires premium upkeep to properly fulfill diverse responsibilities. For a detailed inspection and subsequent repairs as needed, contact us directly to schedule a Chevy service appointment.
Tire Changes & Orders
The condition of your vehicle's tires is critical in establishing consistency for daily commuting. And with regular tire rotations, along with changes for flat or damaged tires, our service experts can help keep you confident on local roadways. When tire tread is excessively worn or damaged beyond repair, we're happy to place a tire order on your behalf and install new tires with fresh tread on your Chevy model.
A/C Service
Issues related to your vehicle's air conditioning system, especially on humid summer days, can severely impact the quality of experiences behind the wheel. If you notice warning signs such as lackluster air filtration or an impacted cooling effect, schedule a service appointment with our team. We can inspect this system and conduct necessary repairs to restore functionality.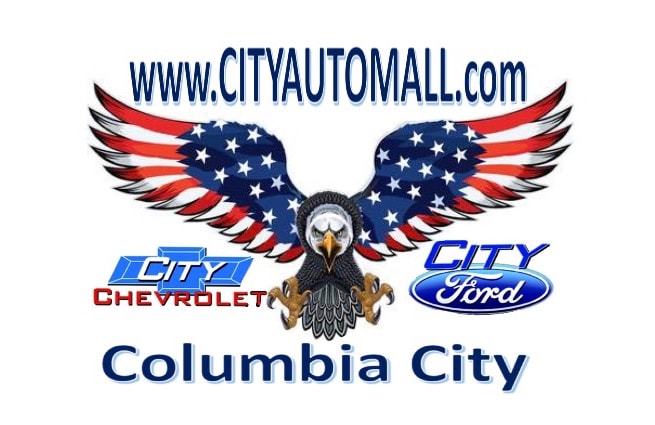 Get Started with our Chevy Service Experts
To move forward with a Chevy maintenance and repair appointment here in Columbia City, IN, give us a call or use our online scheduling tool! We look forward to working on your vehicle inside our service center soon.
Contact
Hours
Monday

7:30am-5:30pm

Tuesday

7:30am-5:30pm

Wednesday

7:30am-5:30pm

Thursday

7:30am-5:30pm

Friday

7:30am-5:30pm

Saturday

7:30am-12:30pm

Sunday

Closed